---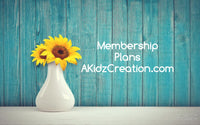 Cost

50% off design

65% off designs

75% off designs

Free exclusive

for members

Friday freebies

Monthly free design

 

1 month

$15

*

 

 

1

 

*

 

3 month

$35

*

 

 

1

 

*

 

6 month

$85

 

*

 

2

*

*

 

1 year

$180

 

 

*

3

*

*

 

Business

1 year

 $200

 

 

 *

 20

 *

 *

business tips/guidance

1 on 1 help 

 

 

 

 

 

 

 

 

 

 

 

 

 

 

 

 

 
These memberships are NOT recurring just a 1 time payment  of the membership fee for the duration that you choose. After your duration is over you will have to purchase another membership plan again. These memberships are for  AkidzCreation fans who want discounts all the time and never want to wait for the sales. You will get sales when no one else does (make sure to PM me on facebook to get your sale code)! You also get the perks of free designs that everyone else does not get either.  You will purchase what membership plan you want and then PM me on facebook with your order number so I can send you your discount codes and freebies. All freebies will be given through facebook through PM as well. 
Business members will get invited to a private facebook group where you will get tips on anything you need to help you grow your business! 
Same requirements apply that you can use our designs for small businesses and on physical products that you make with our designs stitched on those tangible items. You MAY NOT sell, give away, gift, or make dvd/cds and sell our digital designs .