---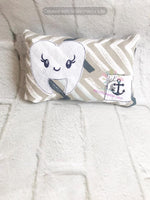 This design is made for an embroidery machine. No Fonts will come with the design. It will be delivered via **Instant Download** You MUST have an embroidery machine to use our designs. You will receive an email with a link to download your designs as soon as your payment is processed.
You will get 2 options one has all tight bean stitch and the other has a satin finish on the tooth and pocket! you get to choose

You will receive:
Your instant download will include the following embroidery machine design formats in one zip file: DST, EXP, HUS, JEF, PES, VP3 and XXX. You will get 2 designs in this purchase. Each design has 5 sizes. 5x7, 6x10, 7x12, 8x8 and 8x12.
bean stitch version

5x7- 115.9 mm x 176.8 mm - stitches- 6537
6x10- 142.0 mm x 216.7 mm - stitches- 7773
7x12- 167.3 mm x 255.5 mm - stitches- 8667
8x8- 194.1 mm x 127.2 mm - stitches- 6965
8x12- 180.4 mm x 275.4 mm - stitches- 9970

satin version

5x7- 115.3 mm x 175.3 mm - stitches- 9463
6x10- 149.4 mm x 227.5 mm - stitches- 12348
7x12- 177.8 mm x 270.9 mm - stitches- 14371
8x8- 195.1 mm x 128.2 mm - stitches- 10484
8x12- 186.3 mm x 283.9 mm - stitches- 15426

You will receive the files in a zipped compressed folder. You will need to use a computer or laptop to unzip the file, save to your computer and then use on your usb or card to transfer to your machine.

IMPORTANT INFORMATION
This is a digital machine embroidery file, not a physical finished item it is a digital file used on a embroidery machine.

You must own an embroidery machine and know how to transfer files to your machine in order to use these designs.
We cannot guarantee the quality of the designs if there has been any editing, resizing or altering. Re-sizing a file MAY compromise the integrity of the design.
PLEASE NOTE: please keep your email that was sent with your downloads, this is how you get your designs. I am currently working on getting the website set up to where u can access them in your account but currently its not set up yet. IF YOU GOT A FREEBIE AND DELETED THE EMAIL YOU WILL NOT GET A RESENT EMAIL WITH YOUR DESIGNS SO PLEASE DONT DELETE THEM

REFUNDS POLICY
Due to the digital nature of our designs, we have a strict NO REFUNDS policy. All sales are final. If you have any questions, please do email us and we will always be happy to work with you to resolve any issues that may arise.

COPYRIGHT POLICY
This design is copy righted by AKidzCreation. You may not sell, share or give away any of our designs. Any illegal sharing , selling or giving them away is illegal.

By purchasing our designs, you agree to the following:

You may use our designs to create items for personal use and for sewing our designs on handmade items for a small business.
You are purchasing a *license* to use our designs.
Our designs are for machine embroidery purposes ONLY.
You may NOT use our designs to create SVG files, heat transfers, vinyl designs etc.
You may NOT share, sell or give our design files to anyone.
You may NOT use any part of our designs in whole or in part to create your own designs of any kind for sale.
You may NOT use our fonts and/or monograms to create your own embroidery designs, or any other kind of design, for sale.
You may NOT create products with our designs for mass production of large commercial use.

Please join our group for updates on sales, freebies and fun new releases!

https://www.facebook.com/groups/akidzcreation